Generator 7-40w Amplifier - MKII
$

1,899.00 Sold Out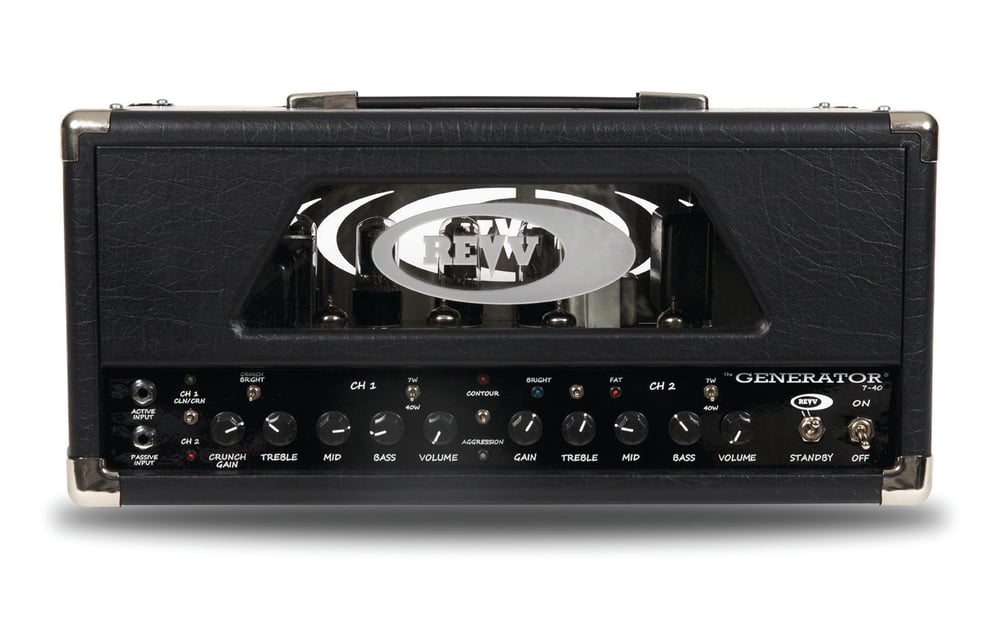 THIS SHOP IS DISCONTINUED PLEASE BUY AT http://revvamplification.com/online-store/
Revv's signature sound in an affordable and portable package. Zero compromise. Suitable for all types of players.
Think you'll miss the 120's four channels? Even without midi our amps are fully programmable via footswitch. Every switch position. All the tones you want at your feet!
Voicing and gain switches that makes accounting for guitar changes a breeze, or dialing in the most specific tone you need.
No compromise tone and construction.
FEATURES
- 2 Channels: CH1 - Clean and Crunch / CH2 - Gain channel with 3 aggression levels
- Variable wattage: 7 and 40 watt selector switches per channel
- Panel and Foot switchable channels (one button foot switch available)
- 3 band EQ per channel
- Midi Controllable
- Transparent, low output impedance, tube driven/buffered, serial effects loop with send and return level control ability. (+4/-10dB)
- REVV Tube arrangement: 4 - 12AX7 , 1 - 12AU7, 4 - 6V6GT
- CH 2: Contour switch to allow selection of a 3 dimensional brighter tone of a deeper/scooped type of distortion by shifting mid range frequencies for tons of tone variety
- Rear Bias test points with easily accessed adjustments for each power tube pair
- 4, 8, 16 ohm output impedance selector switch
- ALL tube design
- Baltic birch head shell
- Rugged and durable design utilizing steel fasteners and locknuts
- High Quality Transformers
- Illuminated color changing acrylic panel
- LED lighting for control verification
- Dimensions: 19.6 x 10.9 x 10.9 inches
- Weight: 30 lbs
- Hand built in Canada with high quality standards of both sound and construction
- 5-Year limited warranty
- International Voltages Available: 100V, 120V, 220V, 230V, 240V
7-40w Foot Controller: incl.
Optional Rackmount Enclosure available for a fee
***APPROXIMATE DELIVERY TIME 4-5 MONTHS***
Share